After spending all day at the polls, voters could begin to see midterm election results within hours.
Interested in
Midterm Elections?
Add Midterm Elections as an interest to stay up to date on the latest Midterm Elections news, video, and analysis from ABC News.
Preliminary results from the national exit poll are out, and the first polls begin to close at 6 p.m. ET.
This year's midterms are the first nationwide contests since 2016, when President Donald Trump was elected. Many, including the president himself, see this election as a referendum on his presidency.
"I'm not on the ticket, but I am on the ticket because this is also a referendum about me," Trump said at a rally in Southaven, Miss., in early October.
With Republicans currently in control of the White House and both chambers of Congress, 35 Senate seats, all 435 seats in the House and 36 governorships are on the ballot. The Election Day 2018 Live Map shows when polls close around the country and, as votes get counted, will give hourly state-by-state results for the Senate, House and governorships.
Here's the latest:
LIVE UPDATES
7:00 p.m. ET — Polls have closed in the first wave of closely watched states with competitive races: Indiana, Vermont, Virginia, Georgia, South Carolina and Kentucky.
In Indiana, Democratic Sen. Joe Donnelly faces Republican challenger Mike Braun in a tight senate race, while in Georgia, Democrat Stacey Abrams faces Republican Brian Kemp for the governor's seat.
5:59 p.m. ET — President Donald Trump and which party controls Congress are front and center for voters this election year, according to preliminary results from the national exit poll.
In results so far, 44 percent of voters approve of Trump's job performance, while 55 percent disapprove.
And while the House races will be fought district by district, voters by 53-43 percent say they'd rather see the Democrats than the Republicans in control of the House after this election.
Read more here about why Trump has embraced the election as a referendum, and more here about the preliminary results from the national exit poll.
-Gary Langer
4:34 p.m. ET — Dozens of young Native Americans marched to their local polling place on a reservation near Belcourt, North Dakota.
The group of young men and women, members of the Turtle Mountain Band of Chippewa, carried signs that read, "Don't disenfranchise us," as they chanted in unison, "North Dakota, you can't do that!"
By the time they reached the polls, more than a thousand people had already cast ballots hours before the polls were to close. In comparison, just 950 people voted at the same polling site in 2016, according to an election official there.
Tribal leaders have scrambled to print at least 3,500 new tribal IDs for Native Americans on reservations in North Dakota in response to the state's new voter ID law, which requires North Dakotans to provide a state or tribal ID with a residential address in order to vote. Many Native Americans living in rural communities on or near reservations don't have residential addresses.
-Janice McDonald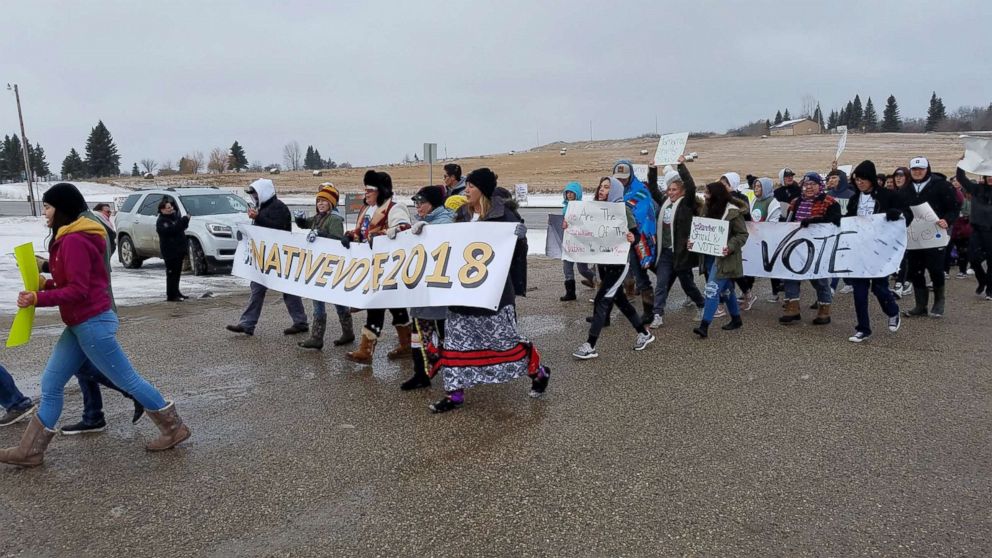 4:21 p.m. ET — The issues with electronic poll books in Indiana's Johnson County have been "resolved," election officials said.
The midsize county, which is located south of Indianapolis, will not be extending voting hours but officials will add more voting machines if need be, according to Johnson County election board chairman Phil Barrow.
Election Systems & Software, the electronic voting vendor the county employs, also confirmed in a statement that the issues were fixed.
"The issue in Johnson County, Indiana has been resolved, resulting in faster check-in times for voters," the company said in a statement Tuesday. "Earlier in the day, the poll book, which is used to check in voters but is not related to voting machines themselves, was running slowly. The poll book operation is now significantly improved. We apologize to voters and to elections officials in Johnson County, Indiana for longer wait times than expected, and we thank everyone for their patience."
Johnson County is in a congressional district considered safe for Republicans, but the Senate race in Indiana is considered competitive, with Democratic incumbent Joe Donnelly trying to beat back a challenge by Republican Mike Braun.
3:41 p.m. ET — A 104-year-old woman cast her vote Tuesday.
Margaret Norwood was alive at the time when women did not have the right to vote, according to a tweet from Muriel Bowser, who is running for re-election as mayor of Washington, D.C.
3:19 p.m. ET — Multiple high-ranking sources in the White House and outside advisers close to President Trump say they are bracing for an interesting evening – all the sources believe it is most likely the House will be in the hands of Democrats after tonight's results.
One source said the reality is if there is good news tonight for Republicans, the president will take all the credit; however, he already knows he will get blamed if it's not a great night.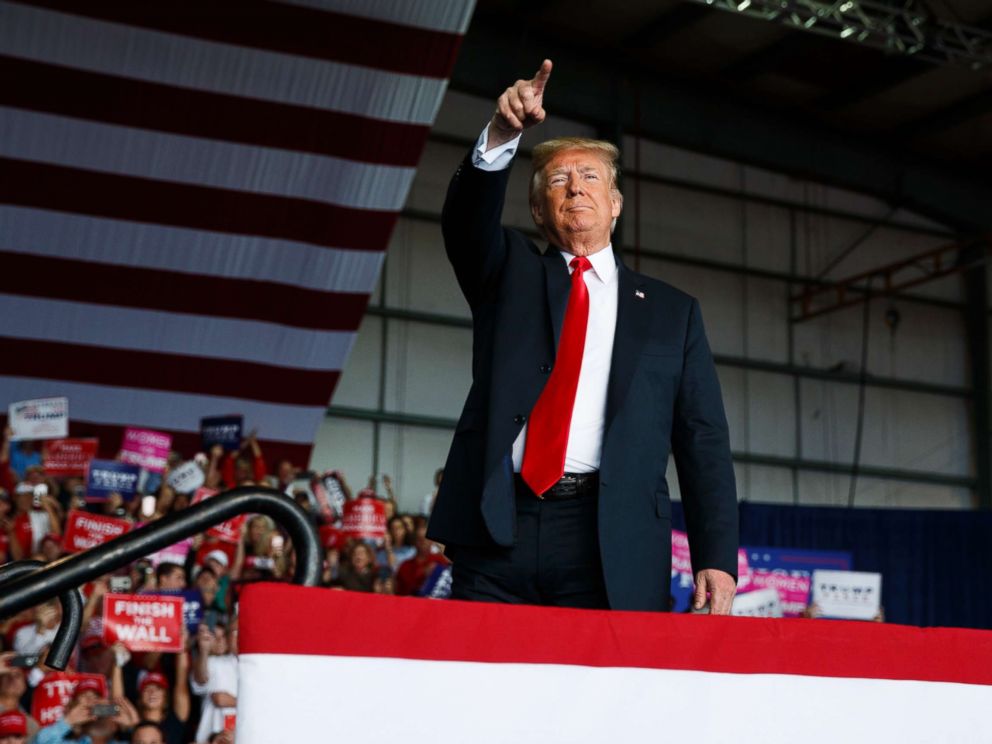 2:27 p.m. ET — Outgoing Republican Rep. Darrell Issa of California, who did not run for re-election, predicted a Democrat would win his seat.
"Quite frankly, we know the results already," Issa told Fox News in an interview. "It will be a Democrat representing La Jolla to Solana Beach for the first time in a number of years."
Democrat Mike Levin and Republican Diane Harkey are vying to replace Issa, who has held the seat for eight terms.
1:56 p.m. ET — Los Angeles voters waiting in line at one polling station at least got serenaded by a mariachi band.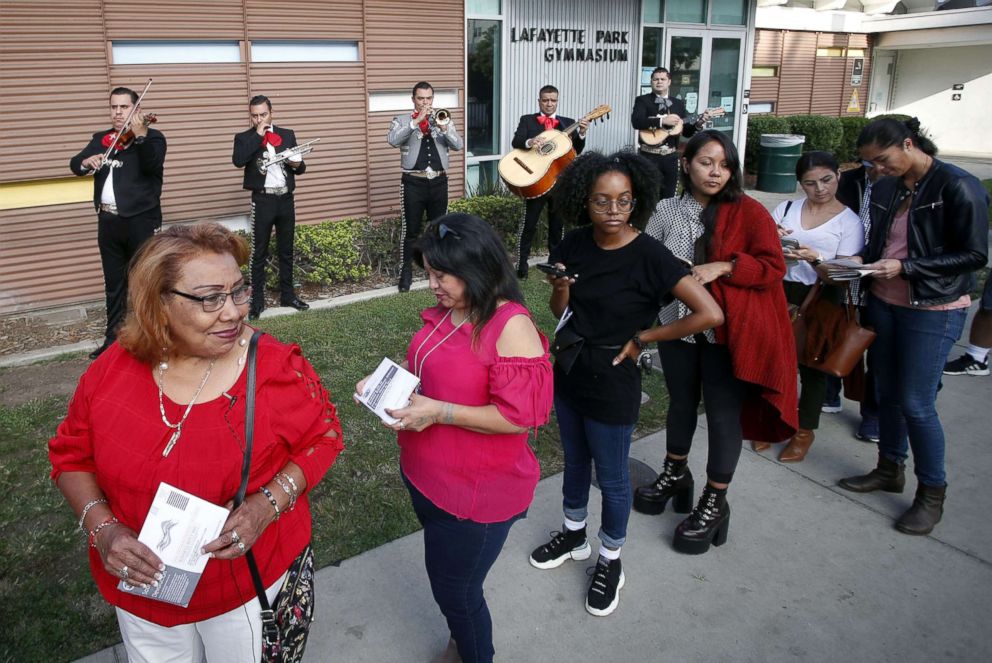 1:49 p.m. ET — Federal authorities aren't seeing anything out of the ordinary on election a Department of Homeland Security official said.
There has been a typical scanning and probing of some election systems, but authorities haven't seen an "uptick" in cyberactivity, the official told reporters Tuesday afternoon.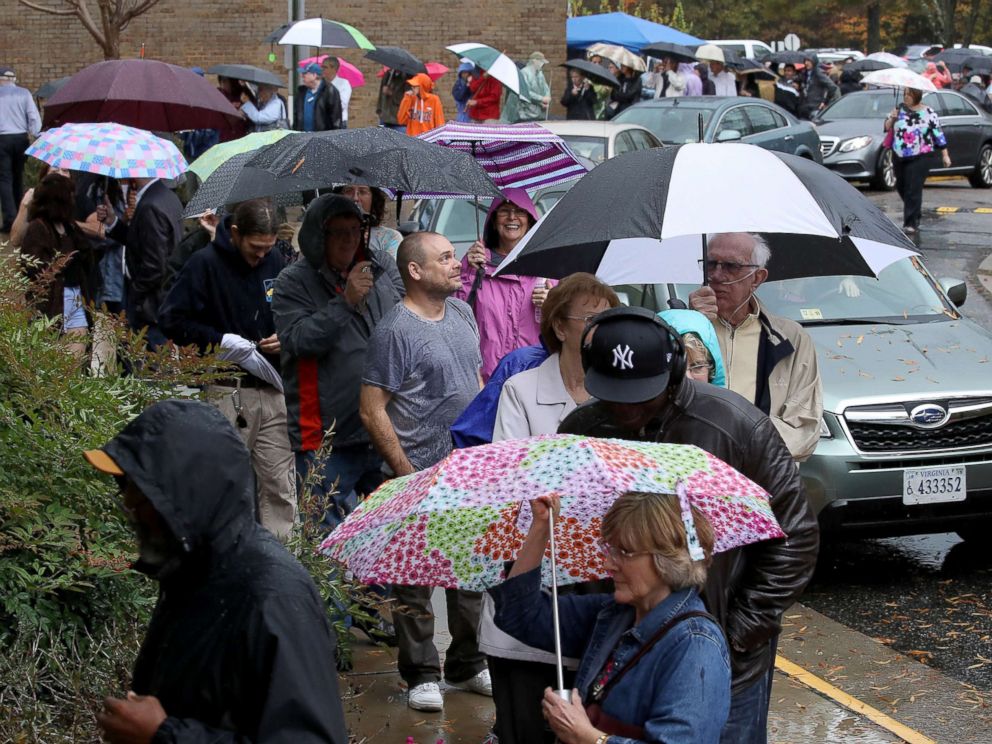 1:00 p.m. ET — Polls are now open across all states, including Hawaii.
12:27 p.m. ET — Some Arizona voters will be treated to a cute, cuddly surprise at the polls.
The Arizona Humane Society is bringing puppies to some polling sites around the Phoenix area to help lower blood pressure among voters and ease the strain of waiting in long lines.
"It's funny, you see people see the puppies, and they just melt," Bretta Nelson of the Arizona Humane Society told ABC News in Phoenix, adding that it's also a "unique way to get our puppies adopted.
11:59 a.m. ET — House Minority Leader Nancy Pelosi is confident Democrats will win control of that chamber of Congress in Tuesday's election.
When asked at a press conference if she is 100 percent certain her party will become the majority in the House of Representatives, the California Democrat said, "Yes, I am."
11:32 a.m. ET — Trump retweeted a tweet he had initially posted Monday morning that warned about "illegal voting."
The tweet reads, "Law Enforcement has been strongly notified to watch closely for any ILLEGAL VOTING which may take place in Tuesday's Election (or Early Voting). Anyone caught will be subject to the Maximum Criminal Penalties allowed by law. Thank you!"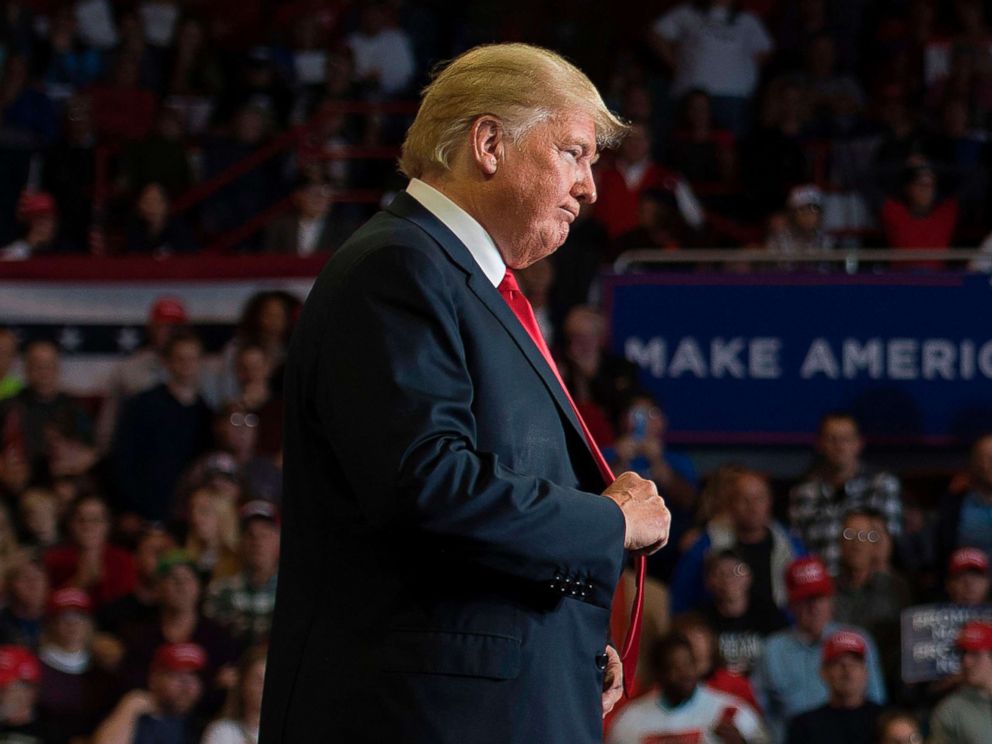 10:20 a.m. ET — Democrats in Florida voted prior to Election Day in slightly higher numbers than the state's Republicans.
More than 5.2 million Floridians in total cast ballots either by mail or early voting. Of that number, 2,110,782 were Democrats and 2,088,429 Republicans, according to newly-released data from the Florida Division of Elections.
10:03 a.m. ET — Newspapers across the U.S. splashed headlines conveying some of the emotion and tension around this election.
Here are a few of them.
– The Columbus Dispatch: "It's up to you now"
– Connecticut Post: "Midterm mania grips nation"
– Chicago Tribune: "A fight for control"
– The Des Moines Register: "IT'S DECISION DAY"
– The Detroit News: "Battle for Congress spirited until the end"
– Houston Chronicle: "DAY OF RECKONING IS HERE"
– Los Angeles Times: "Trump's reputation is on the line"
– New York Daily News: "YOUR CALL, AMERICA
– The Oregonian: "Ready or not, it's finally Election day"
– Orlando Sentinel: "FIERCE RACES AWAIT DECISIONS"
– The Washington Post: "Uncertainty rules as the midterms reach the wire"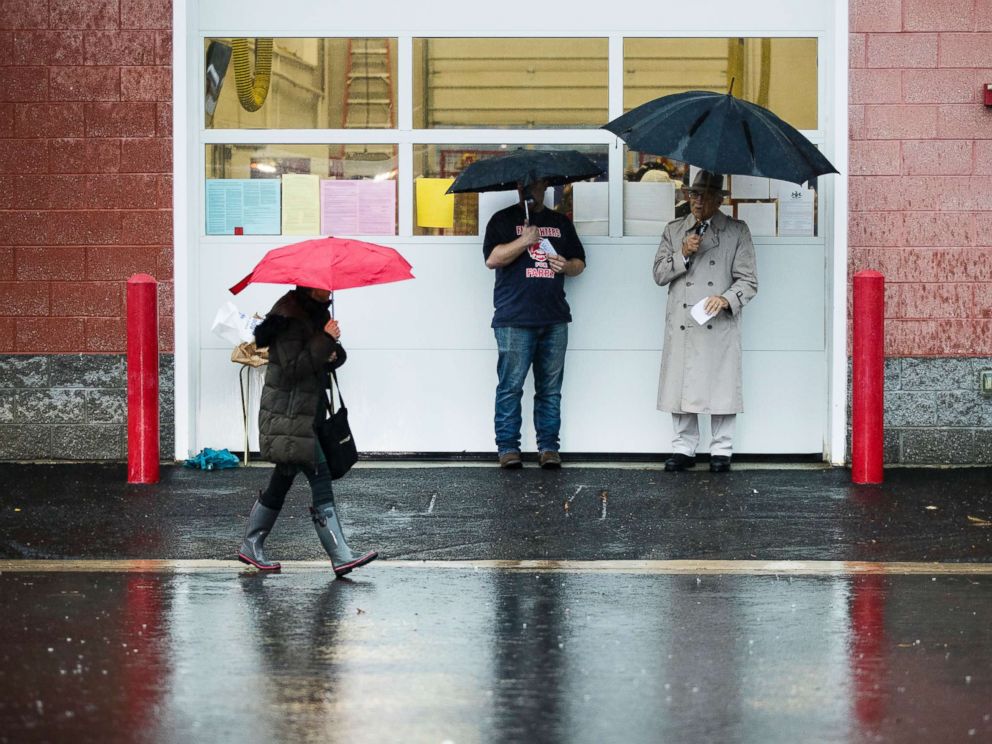 9:46 a.m. ET — Mark Salter, longtime aide and speechwriter for the late Sen. John McCain, a Republican, urged his Twitter followers to "vote for the Democrat (in most cases).
"That feels weird to write," Salter tweeted. "But the bigger the rebuke of Trump the better for the country. Resist."
McCain was one of Trump's most outspoken Republican critics. The Arizona senator died in August at age 85 after a yearlong battle with brain cancer.
Vote For the Democrat (in most cases). That feels weird to write. But the bigger the rebuke of Trump the better for the country. Resist.

— Mark Salter (@MarkSalter55) November 6, 2018
9:17 a.m. ET — Former Secretary of State Hillary Clinton, the Democratic candidate who ran against Trump in the 2016 presidential election, made a final appeal to voters.
"For the past two years, we've watched this administration attack and undermine our democratic institutions and values. Today, we say enough," Clinton wrote in a series of tweets.
"But we won't just vote against radicalism, bigotry, and corruption today. We'll vote for fantastic candidates all over the country—including a historic number of women—who want to raise wages, fight for justice, and help more people get health care," she tweeted.
"If they win, they'll do great things for America. Let's exercise our birthright as Americans today, put those people in office, and continue the hard work of saving our democracy. It'll take all of us. Happy Election Day."
For the past two years, we've watched this administration attack and undermine our democratic institutions and values. Today, we say enough.

— Hillary Clinton (@HillaryClinton) November 6, 2018
7:43 a.m. ET — Authorities in some states are warning voters to be vigilant about possible election problems.
The New Jersey Department of State urged residents via Twitter to beware of "false information regarding your polling locations."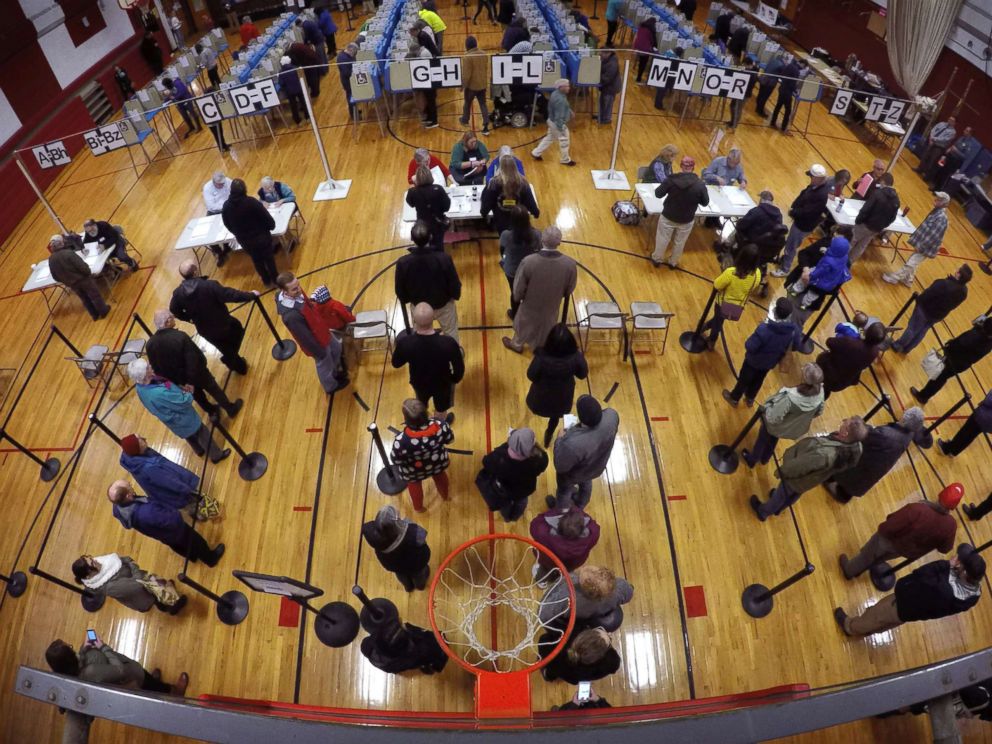 Coverage of the 2018 midterms on ABC News Live:
Get full election coverage on ABC News Live beginning today at 4:30 p.m. EST at ABCNews.com/Live, on the ABC News app and on Roku, Hulu and Facebook.
ABC News' Luke Barr, Chris Donovan, Katherine Faulders, James Hill, Jonathan Karl, Adam Kelsey, Meghan Keneally, Janice McDonald, Meridith McGraw, Victor Ordonez, Steve Osunsami, John Santucci and Scott Withers contributed to this report.